Delivery Information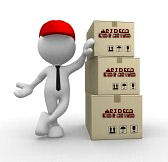 We take pride in shipping faster than the majority of sellers.
Unless custom built, most orders are posted within 24 hours(Mon - Fri) of cleared payment.
All orders are carefully packed to ensure it reaches you in excellent condition.
All items are posted via Royal Mail Second Class mail to UK buyers and arrives to your door in around 2-5 business days.
Overseas takes about 6-14 via Royal Mail Airmail / International mail.

Please make sure the Ship-To address you type during checkout is correct.
We are not responsible for any wrong or undeliverable addresses.
Express Shipping methods are also available at checkout for most items.
Please note that your order and any information within your order cannot be changed or cancelled once we have notified you of shipping.
We understand sometimes you may want to cancel your order or you may change your mind; therefore, if you receive items that you do not want, you can return them for an exchange or refund - please refer to our Return Policy for procedures.