Cloth Covered Braided Twisted Flex 3Core 3Amp in Black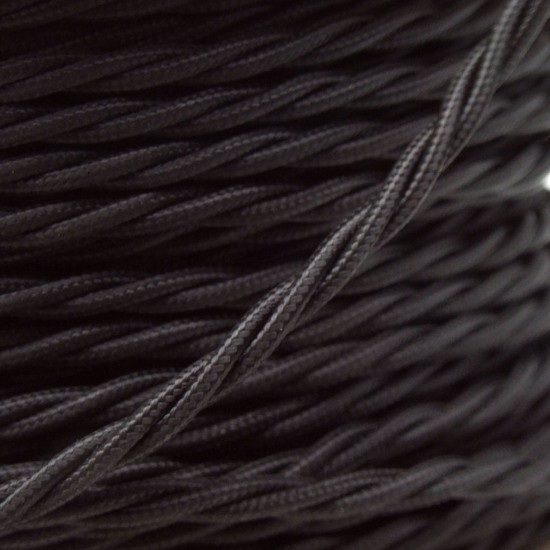 Hot
Cloth Covered Braided Twisted Flex 3Core 3Amp in Black
Stock:

732

Model:

TF050-100-BLK

EAN:

5060422620076
Ex Tax: £2.91
2 or more £3.32
3 or more £3.25
10 or more £3.14
50 or more £2.79
100 or more £2.44
Supplied by the meter, this superior British manufactured product is rated at 3 Amps, 300 Volts, is manufactured to exacting British standards and is suitable for use on both metal and plastic fittings.
Each of the two cores are double insulated, colour coded and covered in braided fire-proof Rayon silk.
Our flex is especially suited for use with table and floor lamps, some rise and fall fittings, small domestic appliances, early radios, extension speakers and clocks; anywhere where classic styling is desired without compromising safety.


The flex is cut to required ordered quantity (length) - order 5 get five meters as one length.

Product Specifications
Colour:
Black
Operating Temperatures:
+ 60°C maximum outer jacket temperature
Operating Voltage:
300 Volts
Relevant Standard:
This cable is constructed utilising "UL" style 1015, 600 V, 105°C cores with secondary reinforcing (UL grade) PVC jacket. The decorative braid is (individually) applied prior to twisting
Insulation Colours:
3 - Brown, Blue, Yellow/Green
Performance:
This cable performs as a flexible cord with limited abrasion resistance relative to the rayon braid.
CSA(mm²):
19
Stranding:
nbØ(mm) 19/0.183
Approx OD(mm):
0.50²
Weight:
kg/100m 3.4
Cores:
3
Current Rating:
3Amp